2012 SANDAHL 'ELEPHANT TAP'
(rhine) riesling, solid ground grade, badacsony, hungary.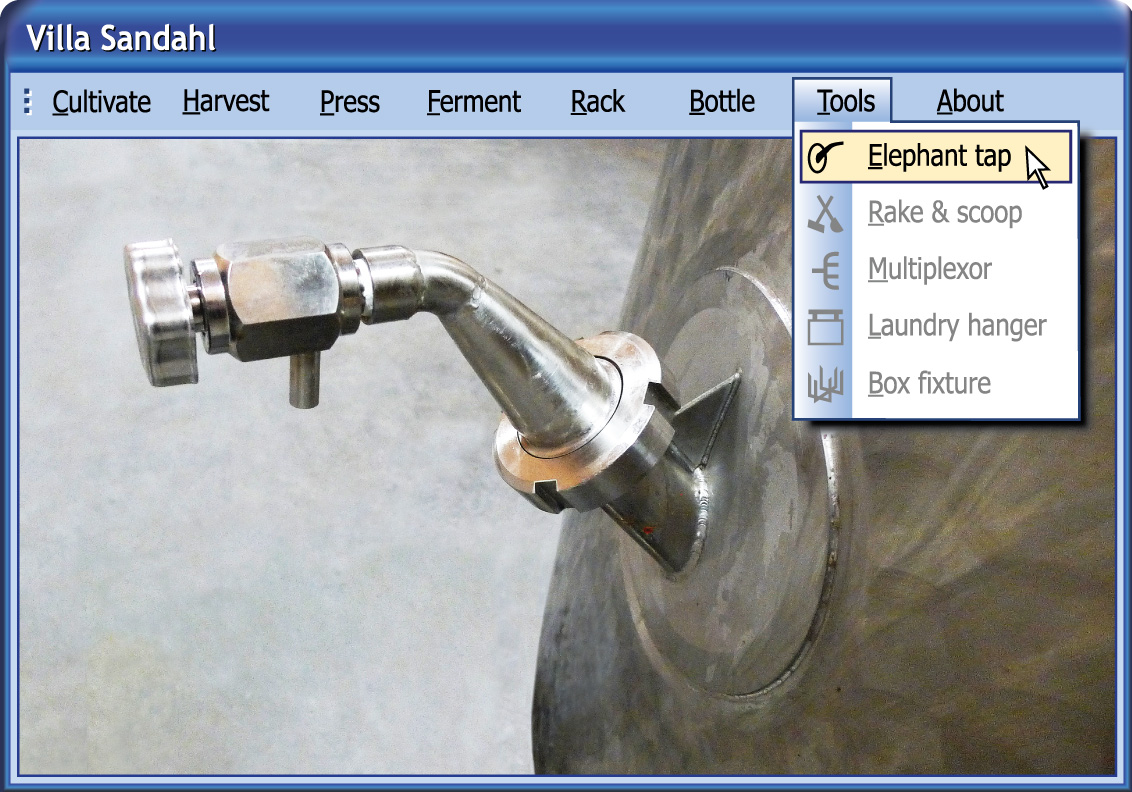 Label story
Elephant tap is a tasting tap applied to a mixing valve on one of our tanks, looking like a cute elephant
2012 'Elephant tap' originates from:
2nd fraction juice from the low part of Genesis
1st fraction juice from Bishop Backyard harvested for the first time.
Availability
Link to Google map of vineyards location
Tasting recently after bottling (august 2013):
Color: Light to medium yellow.
Smell: Open and accessible, broad and rich Riesling character, soft grassy with lemons and citrus, and a lot of minerals. Very agreeable.
Taste: Fat and rich without being clumsy, mouth filling, easy accessible, and behaving like a mature wine. Spicy in the long and coating after taste, with a wee bit of sweetness.
Judgment: Ideal for accompanying good food. Consume at 10 oC.
Analysis (OBI):
Analysis (OBI):
Alcohol: 14 %
Sugar: 5.5 g/l
Acidity: 5 g/l
Vol.acid: 0.6 g/l
Bottle: 750 ml
Awards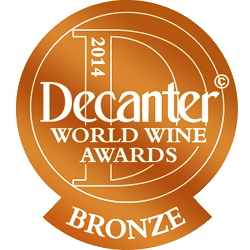 2014 Decanter bronze medal
Decater tasting protocol:
Crisp citrus fruit nose; lemon zest with a touch of minerality. Intense, ripe fruit on the palate. Full-bodied and rounded, with a clean, long finish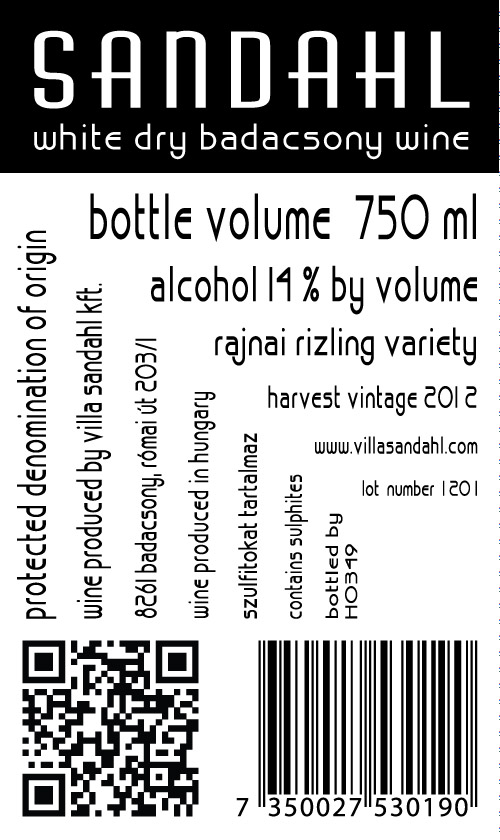 Our other wines
Find below clickable links to all our other wines produced since 2010. Observe, that earlier vintages use to be sold out since long. Yellow means rare peaks, gray means mid ranges, and light blue means solid grounds.
| | |
| --- | --- |
| 2010 | The stamp, Recept |
| 2011 | Magic rain, Cappuccino oil, Give me five |
| 2012 | Laundry hanger, Multiplexor, Rake & scoop, Elephant tap, Box fixture |
| 2013 | Count down, All of a kind, Gold standard, Secret |
| 2014 | S.O.S., m.m.s. |
| 2015 | Dry honey, Wet stones, Citrus x Limon, Bear glue, Bella sunrise, Tussilago |
| 2016 | Banana split, Chicken year, Street smart, Tie mania |
| 2017 | Ball of fame, Crystal cut, Rabbit periscope, Shop stop |
| 2018 | Oh deer, Sign up, Not yet, By the way, Dig it |
| 2019 | Birdie Num Num, Brave Birds, Starling Village, Air Dive |
Internet
For more information, see www.villasandahl.com