2010 SANDAHL 'RECEPT'
(rhine) riesling, genesis vineyard, mid range grade, badacsony, hungary.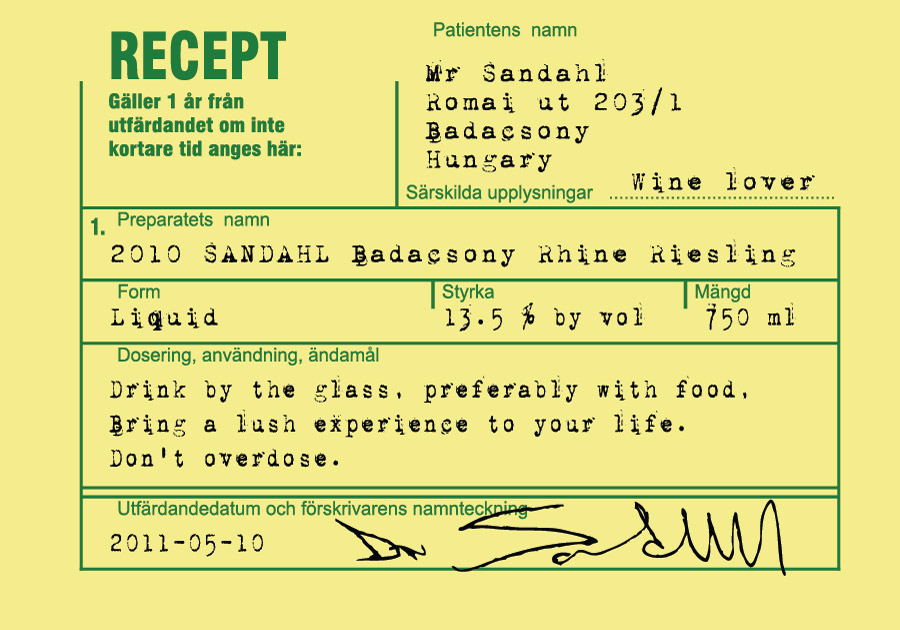 Label story
When having a brain storm on label ideas, we found a doctor's recept on the desk. The simple thing was to exchange the prescribed medicine to our wine.
2010 'Recept' originates from:
Genesis vineyard 2nd fraction
Link to Google map of vineyards location
Tasting summer 2012:
Color: Medium, youthful yellow.
Smell: The quality is extremely satisfying, making the smell pure and nicely accessible. The richness results in a powerful smell, at the same time the character is elegant and crisp, with a small and wonderful addition of botrytis
Taste: This taste has a fresh acidity and some balancing residual sugar to attract the core customer segment. It is a powerful and extremely pleasant wine with the taste reaching its maturity within shortly.
Judgement: It is a bold and dramatic wine, accessible for immediate consumption or storing it for 5 years.
Analysis (OBI):
Analysis (OBI):
Alcohol: 13.7 %
Sugar: 8.1 g/l
Acidity: 7.5 g/l
Vol.acid: 0.70 g/l
Bottle: 750 ml
Awards
2012 Decanter silver medal
Decater tasting protocol:
Crisp green nose with vegetal, limey aromas. Youthful, though showing good weight, with pleasant zest and mineral, offset by richer peach notes. Stockists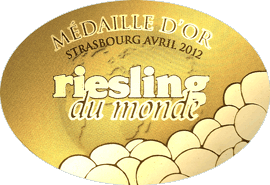 2012 Riesling du monde gold medal
Tasting protocol not provided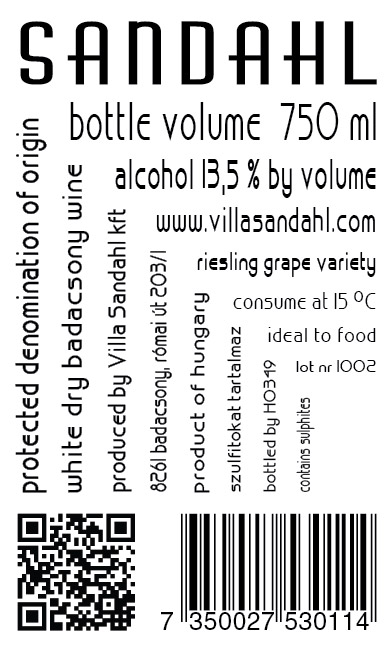 Our other wines
Find below clickable links to all our other wines produced since 2010. Observe, that earlier vintages use to be sold out since long. Yellow means rare peaks, gray means mid ranges, and light blue means solid grounds.
| | |
| --- | --- |
| 2010 | The stamp, Recept |
| 2011 | Magic rain, Cappuccino oil, Give me five |
| 2012 | Laundry hanger, Multiplexor, Rake & scoop, Elephant tap, Box fixture |
| 2013 | Count down, All of a kind, Gold standard, Secret |
| 2014 | S.O.S., m.m.s. |
| 2015 | Dry honey, Wet stones, Citrus x Limon, Bear glue, Bella sunrise, Tussilago |
| 2016 | Banana split, Chicken year, Street smart, Tie mania |
| 2017 | Ball of fame, Crystal cut, Rabbit periscope, Shop stop |
| 2018 | Oh deer, Sign up, Not yet, By the way, Dig it |
| 2019 | Birdie Num Num, Brave Birds, Starling Village, Air Dive |
Internet
For more information, see www.villasandahl.com